Early child development is a crucial period that requires attention. A child's first six months ultimately determines the health pattern of that child growing into the future hence it is important that they are given proper care and attention in terms of what they consume. Infants, unlike adults or adolescent children have some specifics that have to be done timely and progressively. It  is therefore very important that the baby is given food that befits the age at the time. These include the popular goat milk formula that has numerous advantages. This will establish a good health pattern moving forward. The following are necessities that babies should consumes in first six months:
1. Breast milk
Breast milk is an irreplaceable content that a baby between zero to six months must consume. It is the single most important content that is essential to the growth of the baby. Breast milk cannot be divorced from the baby before the end of 6 months. It contains a lot of nutrients that cannot be found in any other food. This milk will boost the baby's immunity and has contents that help baby fight infections and many other things. It is therefore crucial that the baby feeds properly of breast milk during the early months.
2. Vitamin D
Vitamin D has been identified as a critical requirement for the growth of infants and even those beyond the one year mark. The American Academy of paediatrics and many other nutritional institutions have recommended this vitamin in early development growth of infants. This vitamin can therefore be given to the child through supplements. This will protect the child from suffering from deficiency diseases at a later point in their growth and development.
3. Soft and liquid food
Solid food is not recommended for infants. During the first few months, the baby's ability to consume solid food is limited  because the muscles are not yet well developed. The baby should only be introduced to solid food at least five months after birth.
4. Give little water
The reason behind this is because between the age of between 0 to 6 months, the baby consumes liquid food instead of solid food hence very little water  is required in the digestives system of the baby. Once the baby begins to consume solid food then it will consequently demand some extra water.
5. Iron
Iron is one of nutrients that are very necessary and crucial for proper growth and development of the baby. It is advised that the baby should be able to have consumed food with iron until the age of 18 months. Iron boosts  the child's growth in a very big way.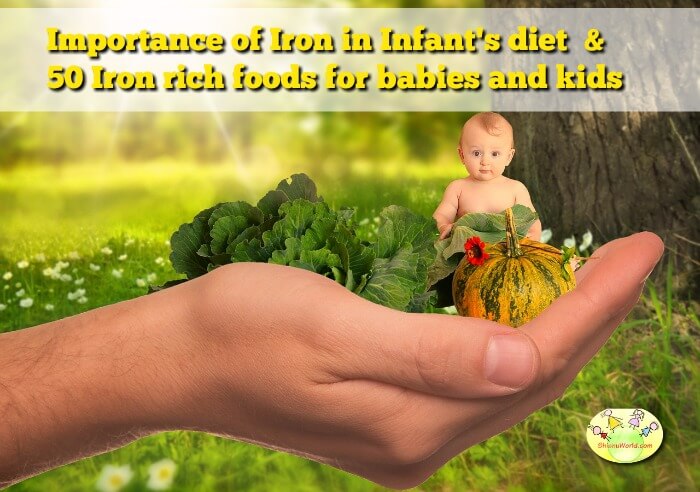 6. Solid food
While introducing solid food to an infant after four months, begin with small amounts and ensure that they are feeding exclusively on one food for a significant  period of time.